ClinicTracker is an all-in-one EHR, billing, and practice management software system that streamlines everything from intake to discharge. It will automate all your clinic routines, boost staff productivity, increase billing efficiency, and provide the tools you need to manage your clinic effectively. While mental health and substance abuse agencies are our main focus, we offer complete packages for telehealth, foster care agencies, social services, equine assisted therapy, university training clinics, family counseling services, and eating disorder clinics.
How Is ClinicTracker Different From Other EHRs?
Integrated EHR, Billing, Telehealth, and Practice Management Software
Refined and battle tested for over 20 years
Extensive capabilities for reporting and outcome tracking
Vast library of pre-stored templates
Flexibility to build your own forms & reports
Efficient workflow management system for tracking required documentation
Chart segmentation/differential chart access meets HIPAA requirements
Flexible deployment models: cloud-based or locally installed
Frequent software updates based on customer requests and feedback… we listen!
Implementation & support services designed to put you at ease
And much, much more…
What's Our Pricing?
We get to know your business first to ensure we're offering the best pricing possible according to your unique situation.
Try ClinicTracker's demo version of software risk-free for 30 days
Use full version of ClinicTracker at a reduced price for the first 2 months
Educational and non-profit pricing available
Small Practice Bundle
Practices and clinics with 10 users or less can access our EHR, Billing, and Practice Management Software and Mental Health Specific Billing Services for one low cost per claim.
Interested? Fill out the contact form on this page to learn more about how our software provides immense value to your practice.
EHR Buyer's Guide: Select The Right EHR For Your Specific Needs
Selecting an EHR is a critically important decision because it directly affects the quality of care your providers can deliver. This step-by-step guide contains insightful tips & tricks to assist you with choosing an EHR & Practice Management System that meets all of your administrative, billing, & clinical demands.
When you complete the form on this page, you'll gain access to our EHR Buyer's Guide.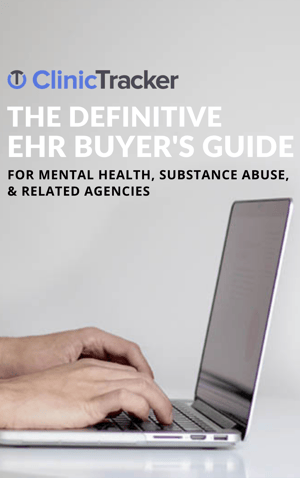 Contact Us
We'd be happy to demonstrate how our software can help make your facility more efficient, organized, compliant and profitable.