Topaz Systems
Used in conjunction with ClinicTracker, the SignatureGem and SigLite electronic signature tablets by Topaz Systems provide high-quality signature capture capability for your eForm deployment. Topaz Systems' hardware and software capture handwritten electronic signatures through an intuitive user interface. In addition, Topaz's patented techniques ensure both the security and integrity of the signatures captured.
By utilizing Topaz System's signature capture software tools, ClinicTracker is able to capture and bind electronic signatures to eForms and Treatment Plans. This system understands when an electronically signed document has been altered, and invalidates any electronic signature that has been tampered with until the document is restored to its original state.
ClinicTracker has fully integrated two series of 1″ x 5″ electronic signature tablet models provided by Topaz Systems. One has a rugged polycarbonate and tempered glass signing surface (Gem-series), while the other is a simpler and lower-cost pressure touchpad-based version (Lite-series).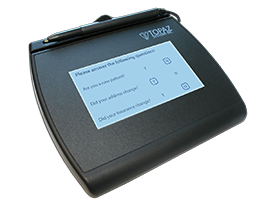 High-tech electromagnetic pen/sensor technology
Industry setting three year warranty
Best used in applications where signature volume is high or the pad is used in a public area where there is the potential for abuse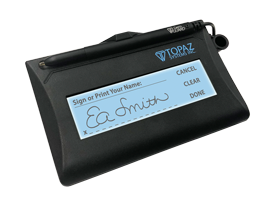 Less expensive option
Passive plastic stylus
Industry setting two year warranty
Best used in an environment that does not require extreme ruggedness